What is Digital Signage?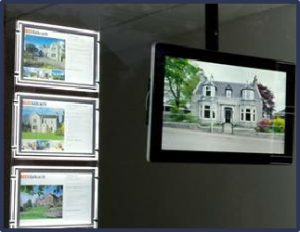 Digital Signage uses commercial grade LCD and LED screen technology to dynamically display advertising, internal communication and everything in between. Advertising screens can be used in a wide variety of public environments.
These include property agents, retail settings, restaurants, hotels, schools, hospitals, corporate environments, the possibilities are endless.
Our screens have an integrated Android network media player; making installation a breeze. Typically network solutions require you to invest in additional networking hardware – complicating the installation process and the overall system. Hardware and software usually come from different sources which can result in confusion and conflict when identifying any potential faults. In contrast to this, any issues with our screens or Digital Signage software will be dealt with directly by us; one supplier, one solution.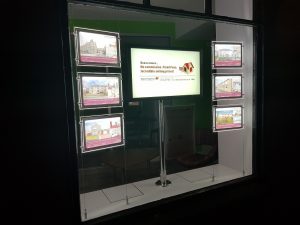 Benefits of Digital Signage
• Multiple messages
• High definition digital posters
• Dynamic window displays
• Update instantly
• Eliminate lengthy printing delays & costs
• Network your screens or simply plug and play
• Choose from sunlight readable high brightness range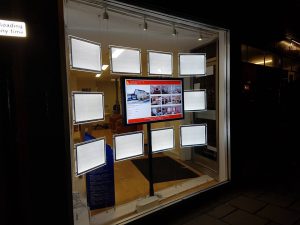 There are two ways to manage your screen's content:  transfer content to your screen using a simple USB data drive, or choose to have your screen networked so that it can be fully managed from anywhere online, using our cloud-based online software.
Option 1 –  Manage Your Screen Using Our Cloud-based Online Software
ANDROID MEDIA PLAYER


Their integrated Android network media player provides super-fast possessing speed for improved communication with the CMS. It also allows you to display live websites; this can be anything from a live web feed from a third party to your social media page. Should you need to you can also run your own software if you already have a CMS solution.
UPDATE FROM ANYWHERE



Access your screen's functions from anywhere. Using the software you can remotely control functions such as rebooting or formatting your screen, playing and stopping content, adjusting the volume and scheduling on/off times; a truly centralised solution.
CREATE CUSTOM LAYOUTS


This feature allows you to design your own layout with different media zones for your images, videos, webpages, time, date and also allows you to add a scrolling message or RSS feed. You can even give your layout a corporate "skin" to go around your media zones.
CONNECTIVITY



Connect your Android Network Screens to the internet wirelessly via Wi-Fi or via a Local Area Connection. If an internet connection is not available a 3G router can be incorporated into the screen, meaning that we can provide an integrated network solution for any location.
SCHEDULE PLAYLISTS



Display what you like, when you like. Create playlists that will automatically display your desired content a pre-determined times and dates. Whatever your scheduling requirements, our system can support them.
CUSTOM BACKGROUND/ FONT COLOURS



Customise your colours - great for maintaining brand consistency. You can choose a colour from the palette or enter a Hex code to modify the colour of your background, scrolling text, static text, time and date.
CONTENT MANAGEMENT SYSTEM (CMS)



A commercial grade panel, with a lifespan of 50,000 hours, and high quality components ensure that this display can be in constant use 24/7. Tablet-like styling is achieved thanks to their tempered glass front and robust steel enclosure, framed in an unpainted aluminium surround, unlike cheap imitations.
USER MANAGEMENT



Create as many bespoke user accounts as you like. You may wish to limit some functions of the software to specific users, for example you may wish to allow a receptionist to upload media and have access to the screen in the reception area but nothing else - our system allows full user rights control.
MULTI-SCREEN SYNCHRONISATION



You can synchronise the content across multiple screens that are connected to the same network. This is ideal for advertising networks on escalators or along lengthy corridors, or for network control of multiple branches in various geographic locations, with no limitations.
Option 2 – Stand Alone, Simple Plug and Play Screens
FREE SCHEDULING SOFTWARE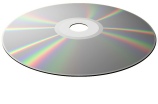 For more advance use the Android Advertising Displays come with a piece of free Scheduling Software for displaying different content at different times of the day as well as setting image display durations and transition effects. For example, a restaurant can create three daily schedules; the breakfast menu in the morning, lunch menu in the afternoon and the dinner menu in the evening. If you prefer to keep it simple you can update the screen directly without using the software.
SCROLLING TEXT


If you want you can also display a "ticker tape" style scrolling text message along the bottom of the screen, to help you get your message across or help highlight any specific promotions or offers.
MULTIPLE INPUTS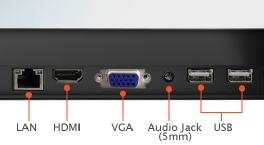 DESIGNED FOR PUBLIC SPACES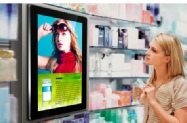 The Android Advertising Displays are fitted with a commercial grade LCD panel with an LED backlight. They have the ability to be in constant use, a wide viewing angle (both in landscape and portrait modes), no buttons, controls, logos or branding on show and are generally much brighter than LCD panels found in home TVs or computer monitors. Their tempered glass face, rounded corners, super slim profile and aluminium surround all add to their captivating tablet-like aesthetics and also protect the internal components from potential damage.
POWER TIMER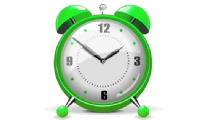 The eco-friendly power timer allows you to assign daily or weekly on and off times for your screen. The ability to power on and off automatically means that the screen is only in use when it needs to be; improving your environmental efficiency.
OPTIONAL NETWORK UPGRADE



For a small charge you can also upgrade your screen to be networked, allowing you to remotely update your screen via LAN, WiFi or 3G.