We all know the importance of good signage, but there are other ways to promote your brand and services other than your facia signage.  
Pavement signs and A-Boards can be supplied  with your own customised graphics, text and logo in full colour prints directly onto the panels, as well as logo panels and sign boards for use inside the office.
A Boards & Pavement Signs
An excellent way to drive in additional passing business and market your services, we can supply you with Pavement Signs with full colour prints as required.  
Prices are highly competitive.  We'll keep the process simple and can even do the graphic design for a small fee.  Additional replacement panels can be ordered if required in the future as well.
Or look at our A-Master range, designed to easily accommodate and change posters.
Improve your branding and street presence now at budget prices !

View our full range of pavement signs, flags and A Boards here ….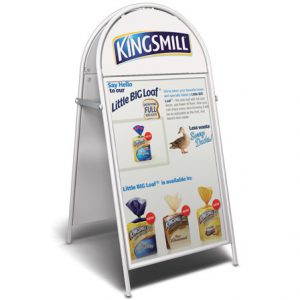 Check out our Booster  Pavement Sign, with poster frames, and logo headers:
From only £78.00, plus vat & delivery