"The most important part of an estate agent's business marketing?"
Yes. And No.
Does a physical High Street presence need as much investment as your online business?  Take advantage of our friendly, expert advice, and judge for yourself.
A window display for an estate agent is not only a method of promoting the sale of properties on the agent's books. It is also, very importantly, the image of the company.
It is the face that existing and potential customers see every day.
At Display Works we have 25 years of experience in meeting the changing requirements of our customers.
We understand the importance of your window display. It is not only a method by which you advertise the sale of your customers' properties – it also one of the major deciding factors which lead to potential customers walking through your door.
The versatility these systems provide ensures that not only can you have a display which is easy to maintain and easy to use, but also that your display can be original,attractive, versatile and illuminated.
Note the importance of  lighting in your displays – good lighting brings your window display to life.
We take pride in our record of excellent customer service, which is the reason why 80% of our trade comes from existing customers.
If you can't find what you require on our website, would like some advice, or are interested in a bespoke design, please don't hesitate to contact us.
Dedicated Advice to Help You Choose the Best Window Display Products for your Property Business
Below are the main types of property display which are the most popular today, and worth your consideration.
LED Light Pockets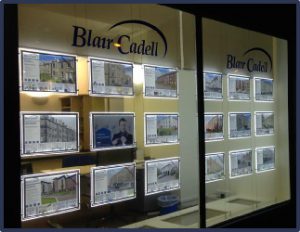 The must have product for estate agents today, illuminated LED light pockets ensure that your professionalism is clear and evident to both existing and potential customers.  
Sometimes referred to as Light Panels, our Light Pockets are amongst the best quality ones available but are also competitively priced.
The pockets are double-sided, with a life expectancy of 60,000 hours, with little or no maintenance required.
For best results, they should be arranged in a minimalist approach, giving them space to sell, and thus creating an open, warm and welcoming office to potential customers.
Now that the majority of property agents have installed LED light pockets in their offices, if you don't have illumination in your window display, you run the risk of losing potential new  business every day.
If your aim is to attract the attention of passing trade, then illumination in your window displays is absolutely crucial.
Light pockets are available in all of the standard sizes, from A4 to A1.  Multi-wide pockets can save on space and reduce the need for cables and power supplies.
Digital Signage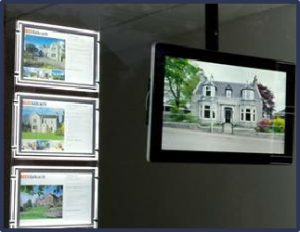 What is Digital Signage?
Digital Signage uses commercial grade LCD and LED screen technology to dynamically display advertising, internal communication and everything in between. Advertising screens can be used in a wide variety of public environments.
These include property agents, retail settings, restaurants, hotels, schools, hospitals, corporate environments, the possibilities are endless.
Dynamic video displays are now easily achievable using our user-friendly software, so that you can advertise and market properties and your own services and announcements.  Increase the relevance of your window display dramatically with a dynamic, visually impressive advertising screen.
What Makes Us Unique?
Our screens have an integrated Android network media player; making installation a breeze. Typically network solutions require you to invest in additional networking hardware – complicating the installation process and the overall system. Hardware and software usually come from different sources which can result in confusion and conflict when identifying any potential faults. In contrast to this, any issues with our screens or Digital Signage software will be dealt with directly by us; one supplier, one solution.